Zenless Zone Zero is the upcoming post-apocalyptic action RPG from HoYoverse. So, in other words, it's the new Genshin Impact game. Thanks to the official website, social media, and trailers (including the trailer shown at the Summer Game Fest), our intel on this sci-fi universe is steadily growing.
Are you ready to meet the first Zenless Zone Zero characters? Let's dive into that other-dimensional Hollow and explore everything we know so far.
Is there a Zenless Zone Zero release date yet?
Zenless Zone Zero was announced on May 13. As recruitment for the first closed beta started on that day as well, it's expected to begin somewhere in June.
We don't have an official Zenless Zone Zero release date yet, and we probably shouldn't expect it for at least another year. If this game follows a pattern similar to previous HoYoverse games, there will be a second closed beta near the end of the year.
Will Zenless Zone Zero have cross-saves across platforms?
The confirmed platforms for Zenless Zone Zero are PC and iOS. So far, PlayStation and Android haven't been mentioned. We also don't know if there will be a cross-save function, but as it's present in other HoYoverse games, it does seem likely.
What is the Zenless Zone Zero story?
In Zenless Zone Zero, you'll be uncovering the mysteries behind the world known as New Eridu, the last remaining urban civilization. The rest of the world has been destroyed by a supernatural disaster known as the Hollows; gateways that seem to appear out of thin air, giving way to twisted dimensions full of ethereal monsters.
The people of New Eridu managed to survive by extracting resources from the Hollows. Since then, the Hollows have become industrialized and monetized under the city's administration, leading to rivalry between various companies, gangs, and fanatics. However, to explore the Hollows, you need a professional guide known as a Proxy.
And guess what? You, the player, happens to be one such Proxy. You'll be teaming up with various groups of explorers, all with their own reasons to enter the disordered dimensions. Once in there, you'll battle monsters, help your employers to achieve their goals, and learn more about their stories.
The Zenless Zone Zero Hollows & New Eridu
One of the most important locations in Zenless Zone Zero is the big city, New Eridu. It's described as a "colorful metropolis" that is home to disaster refugees and survivors. The city is full of gangs, Hollow Raiders, "crazies", conspirators…. And Hollows.
Yes, the Hollows are the cause of the apocalypse, but not to worry; in New Eridu, the Hollows are used for industrial purposes. Little other-dimensional money-making machines, basically. The Ether extracted from the Hollows give New Eridu its special magic.
Inside these abnormal spherical dimensions, we'll find monsters, thugs, Proxies, agencies, Hollow Raiders, and… Well, that sounds like half the city.
What's Zenless Zone Zero gameplay?
As Zenless Zone Zero is an action RPG, it's similar to Genshin Impact rather than Honkai Impact in terms of gameplay. The game sticks to the anime-style world and characters, but in a futuristic urban setting.
We don't know if there's an Elemental system or how large the parties will be, but we will definitely see the return of the character-rotation system. The developer has also disclosed that there will be a roguelike element to the gameplay. The roguelike system is possibly paired to entering the Hollows.
Finally, as the trailer seems to show a brother and sister, we likely get to choose between a male and female protagonist. It's unclear if Zenless Zone Zero features a 'lost sibling' arc similar to Genshin Impact though.
Zenless Zone Zero factions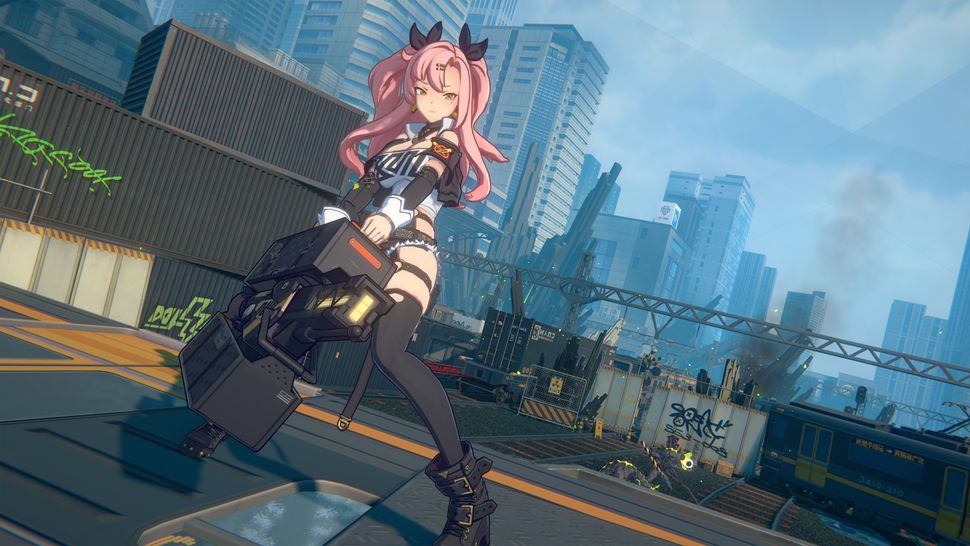 Thanks to the Zenless Zone Zero trailers we've seen so far, we know that the playable characters belong to Factions. Here's an overview of the Factions we spotted:
Gentle House, a.k.a. Cunning Hares: "always available for the right price". Apart from the girl with the cat ears, we've got a character description for every member of this odd-job agency below.
Belobog Industries. Its members, a giant bear, a red-haired girl, and a guy with a drilling machine, all dressed in factory clothes. Miners, maybe? Interestingly, the big city in the other upcoming HoYoverse game, Honkai: Star Rail, is also called Belobog. Who's ready for the multiverse?
Defence Force/11. Soldier 11 (more details below) seems to be the only member so far.
Victoria House Keeping. A girl in a maid costume and a wolf-like guy. It's unknown whether they're here for actual cleaning of demon-fighting.
Kitsune/oni faction. The final faction doesn't display a name yet, but its members are a black-haired girl with fox ears and a blue-skinned alien girl with horns. In other words, a kitsune and an oni. They appear to be mercenaries.
Zenless Zone Zero characters
Ready to meet your future Zenless Zone Zero team? Like Genshin Impact, the game will be full of playable characters. Here are the first four confirmed characters:
Anby Demara (Gentle House). Nobody, including Anby herself, knows anything about her past. She's a skilled fighter though, and a close friend of Nicole, the faction's leader. Anby is a bit of a cinephile who takes movies way too seriously.
Nicole Demara (Gentle House). The cunning, money-loving, pink-haired founder of odd-job agency Cunning Hares. She knows the streets of New Eridu like the back of her hand.
Billy Kid (Gentle House). A carefree, cool, and handsome (according to himself) cyborg. The half-human-half-robot has a pair of custom-made revolvers which he refers to as 'the girls'. He's a big fan of the Starlight Knight show.
Soldier 11 (Defence Force). She's the perfect soldier; calm, efficient, doesn't ask questions, no emotions… At least that what she thinks. Soldier 11 is part of the mysterious Defence Force as first seen in the Summer Game Fest trailer.
And that wraps up everything we know about Genshin-turned-cyberpunk!